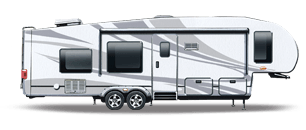 Fifth Wheels
These types of travel trailers have a raised forward section and are designed to be towed by a pickup truck equipped with a device known as a fifth-wheel hitch.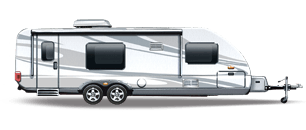 Travel Trailers
A conventional travel trailer is a type of towable RV that offers many varieties of floor plans and sizes. Smaller trailers can even be towed by mid sized vehicles.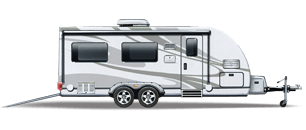 Toy Haulers
Known as a sport utility RV or SURV, a toy hauler is perfect for active families who want to take their motorized sport vehicles on the road with them. They include a drop down ramp access into the "garage" area of the RV.
HOURS
Monday - Friday: 8:30AM - 5:00PM
Saturday: 9:00AM - 3:00PM
Sunday: CLOSED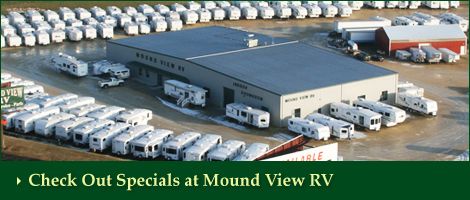 OUR SPECIAL RV SERVICES
Your RV is a significant investment of time and money.
You may have saved for years and spent countless hours researching the right brand, features and floorplans only to become a victim to one of the many storms that occur throughout the summer.
Mound View RV believes that Mother Nature's fury shouldn't be the end of your camping dreams. Our RV technicians are qualified to do almost any storm damage repair.
Call us for details: 866-825-4858 / 608-762-6957
Welcome to Mound View RV
Your Belmont Travel Trailer & Fifth Wheel RV Dealer
Mound View RV is located in beautiful Belmont, Wisconsin just off exit 26 and Highway 151. We may not be the biggest dealership in Wisconsin, but bigger doesn't always mean better! Stop by Mound View if you want to experience first rate customer service, a wide selection of RVs and an amazing service department. Our service department does it all, from satellite TV installation to storm damage repair. Here at Mound View we are an exclusive Forest River dealer carrying a large selection of travel trailers, fifth wheels, toy haulers and folding campers. As a Forest River dealership, you can expect that your RV will be crafted to the best standards and will feature tons of extras to enhance your RV buying experience. Our friendly sales staff is always here to help you answer questions and find you the RV you've been looking for! Whether you're looking for a new or used RV, we're sure you'll find it here at Moundview RV!